Captain Sir Tom Moore Poppy Pins
He won the nation's hearts, raised over £38.9 million pounds for NHS Charities Together, inspired thousands to take on new challenges and raised spirits globally with a simple message 'tomorrow will be a good day'.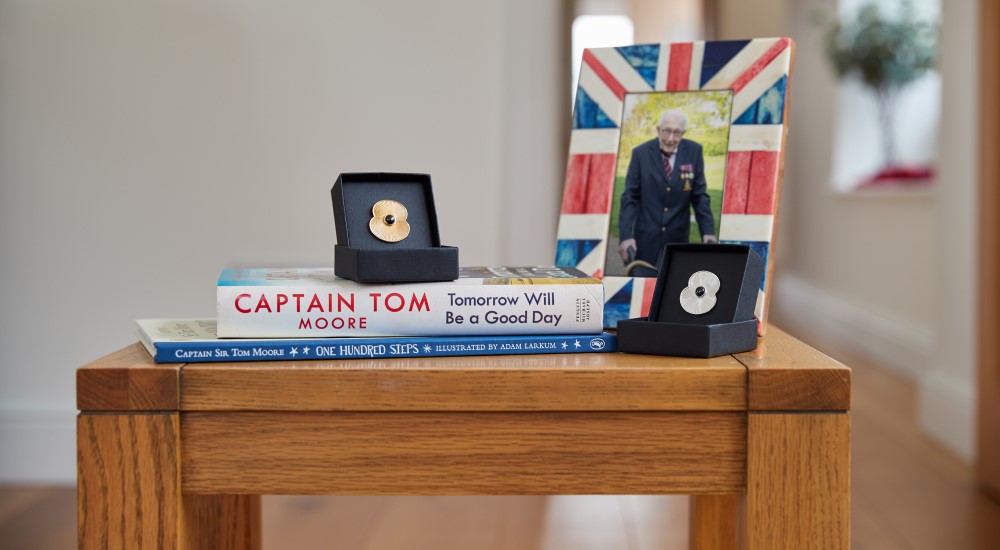 Now it's time to celebrate the late Captain Sir Tom Moore and his service to the country in a fitting tribute in the run-up to Armistice Day – a new commemorative poppy. Available in both silver and gold, the new poppy pays tribute to the Army Veteran.
About the poppy pins
Designed and approved by The Captain Tom Foundation and Captain Sir Tom Moore's family, the new poppy has 100 laser edged ridges, symbolising Sir Tom's 100 years, his 100 laps and the 100 years of the Royal British Legion, one of the charities The Foundation supports.
Priced at £29.99 each, 100% of the profits from this purchase go towards the Royal British Legion, ensuring the sacrifices of the Armed Forces Community are recognised and that they are given the support they need and deserve.
Hannah Ingram-Moore, daughter of Captain Sir Tom Moore comments "My father was passionate about the wonderful work of the Royal British Legion, so to have his own Captain Sir Tom Moore poppy pin to help raise funds and awareness for their cause would have been a dream come true."
Each Pin comes in a presentation box with a card all about Sir Captain Tom Moore's Life and military career.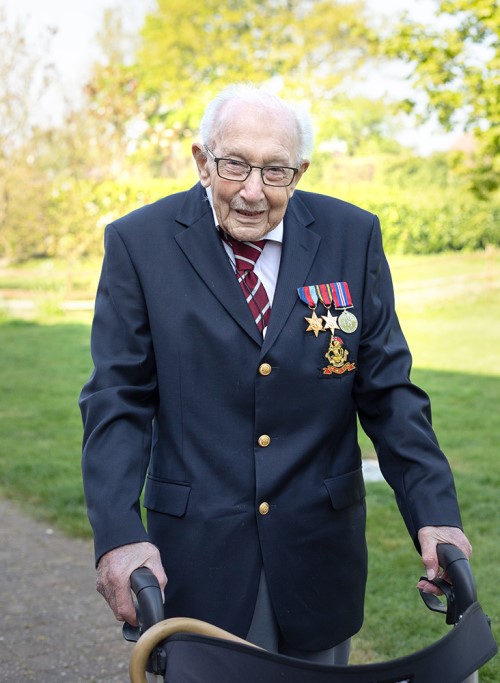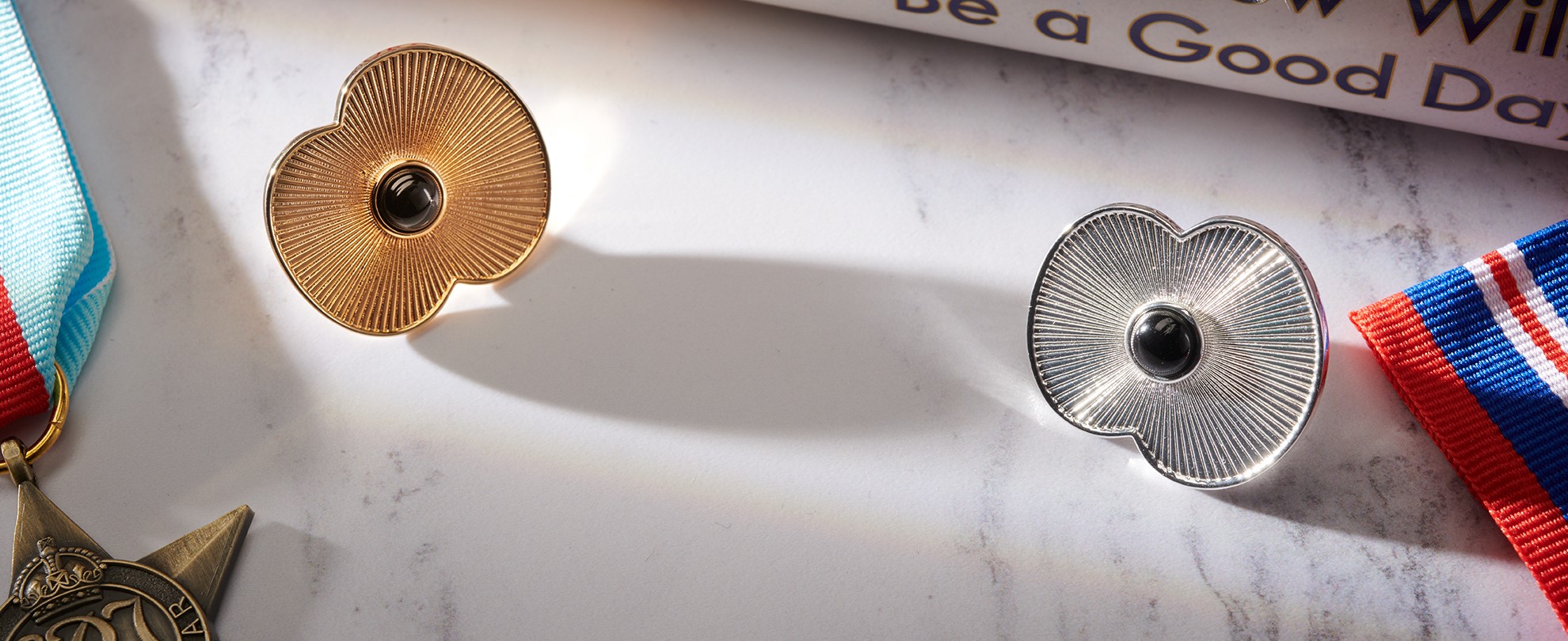 About the design
The design is like a burst of sunshine, reflecting the positive persona of the man himself. As a firm believer that there is hope, however dark things may seem, a spinel gemstone has been placed at the heart of the poppy, which is said to repel negativity and trigger empowerment.
"My father's belief that 'Tomorrow will be a good day' was a testament to the spirit he maintained during and after serving for his country, and which he shared with our family every day while living with us. But he was acutely aware that many who had served for their country did not have the support that he did, so knowing that the Royal British Legion is there to offer care and community for veterans was very important to him. It's an honour to work with the Royal British Legion to continue my father's legacy to inspire hope where it's needed most." continues Hannah.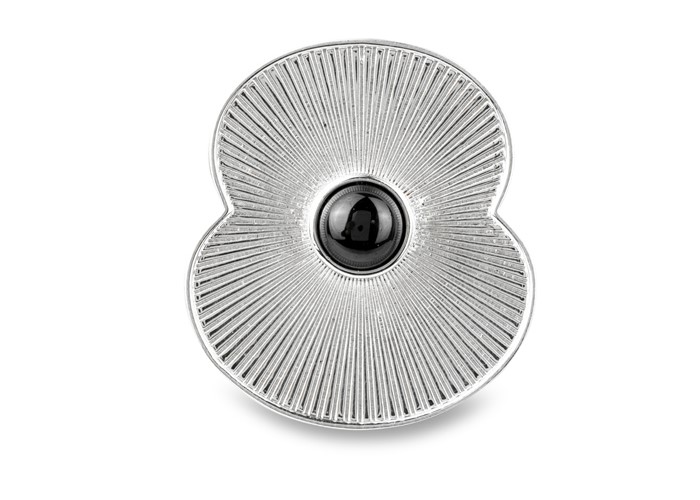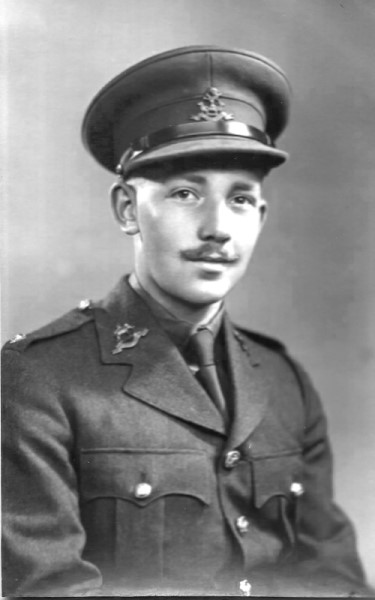 Gold Plated Pin also available

Yorkshireman Captain Sir Tom Moore began his Second World War service with the 8th Battalion, Duke of Wellington's Regiment, later joining the Royal Armoured Corps. In 1944, he was promoted to the rank of temporary Captain, aged just 24. He served with the Fourteenth Army, the so-called 'Forgotten Army', in Abakan in western Burma, where he survived dengue fever.
Sir Tom never forgot his time in the Army and for 64 years, he organised the 8th Battalion's annual reunion, the longest continual annual reunion in the Duke of Wellington's Regiment.
In his 100th year, Captain Sir Tom became a national inspiration when he walked 100 laps of his garden in aid of the NHS during lockdown. Not only did he raise the nation's spirits, he also raised over £38 million for NHS Charities Together.
Like a burst of sunshine, this beautiful Poppy features a spinel gemstone at its heart surrounded by 100 ridges celebrating Captain Sir Tom's 100 years, his 100 laps and the 100 years of the Royal British Legion.
Silver Plated Brass
Dimensions: 3cm (H) x 2.7cm (W) x 1.6cm (D)
Also available on Amazon
UK and BFPO Standard Delivery is FREE on orders £40 and over, or £3.99 on orders under £40. We despatch orders Monday - Friday, and orders are usually delivered within 3 - 5 working days.
European Delivery is £14.00, and orders are usually delivered within 5 working days.
Rest of World Delivery is £28.00, and orders are usually delivered within 14 working days.
We want you to be completely satisfied with your purchases. If you are not completely satisfied with any item you ordered, just return it, in the original packaging if possible, within 30 days of the date of receipt and we will refund your money or send you a replacement – no questions asked.
Unfortunately we are unable to refund postage incurred to return a product unless the item is faulty or defective. For further information, visit our Delivery & Returns page.