Spitfire 85 Anniversary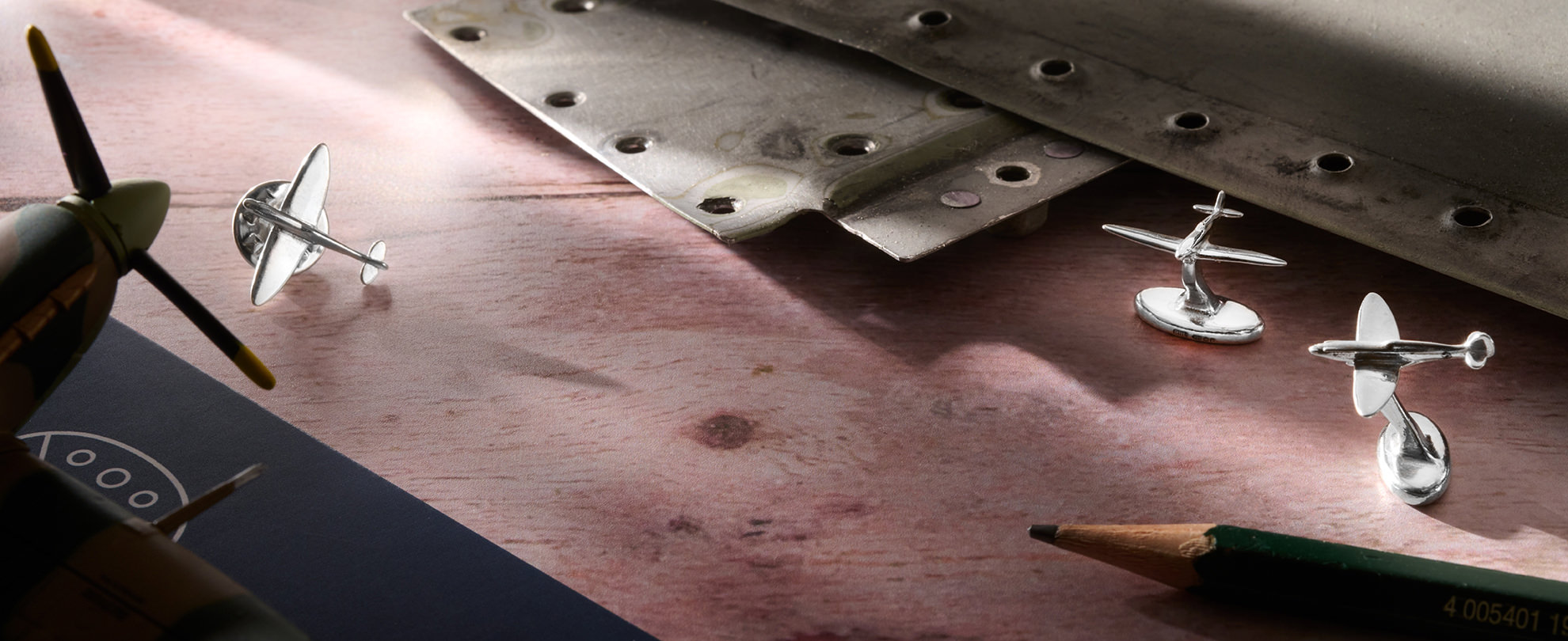 First Production
The Spitfire was designed as a short-range, high-performance interceptor aircraft by R. J. Mitchell, chief designer at Supermarine Aviation Works, which operated as a subsidiary of Vickers-Armstrong from 1928. Mitchell developed the Spitfire's distinctive elliptical wing with innovative sunken rivets (designed by Beverley Shenstone) to have the thinnest possible cross-section, achieving a potential top speed greater than that of several contemporary fighter aircraft, including the Hawker Hurricane. Mitchell continued to refine the design until his death in 1937, whereupon his colleague Joseph Smith took over as chief designer, overseeing the Spitfire's development through many variants.
The first production Spitfire came off the assembly line in 1938 and was flown by Jeffrey Quill on 15 May 1938, almost 24 months after the initial order. The final cost of the first 310 aircraft, after delays and increased programme costs, came to £1,870,242 or £1,533 more per aircraft than originally estimated.
During the Battle of Britain (July–October 1940), the public perceived the Spitfire to be the main RAF fighter. In fact, the more numerous Hurricane shouldered more of the burden of resisting the Luftwaffe. The Spitfire was a better fighter aircraft than the Hurricane. Spitfire units had a lower attrition rate and a higher victory-to-loss ratio than those flying Hurricanes, probably because of the Spitfire's higher performance. During the battle, Spitfires generally engaged Luftwaffe fighters—mainly Messerschmitt Bf 109E-series aircraft, which were a close match for them.
Icarus Cufflinks and Pin
Icarus have developed this pair of Spitfire Cufflinks and Pin to help celebrate and commemorate the 85-year anniversary of the Spitfire first coming off the production line.
They are crafted from genuine airframe aluminium reclaimed from former Spitfires used by the military, specifically some models with special historic heritages; the oldest of the Spitfires, P7350 (G-AWIJ), is a Mk.IIa, which originally flew in the Battle of Britain in 1940, with 266 and 603 Squadrons. In 2019 she was repainted in the No. 54 Squadron code 'KL-B', which represents the aircraft flown by Al Deere from 10 July 1940 until 31 August 1940.
You can purchase the Pin separately here, or both Cufflinks and Pin together here. They all come with a certificate of authenticity.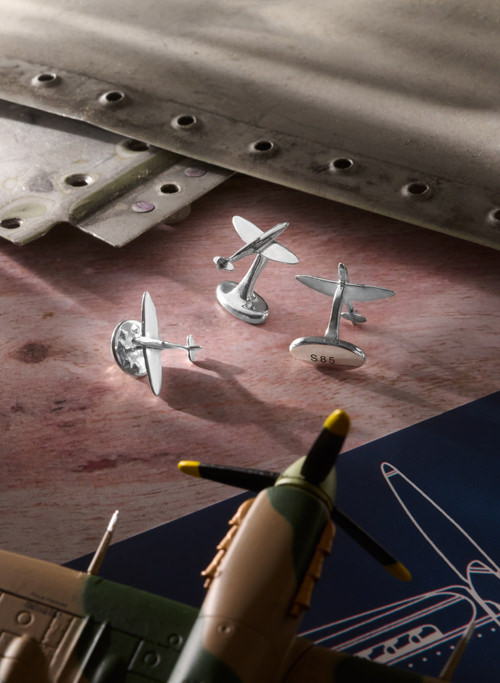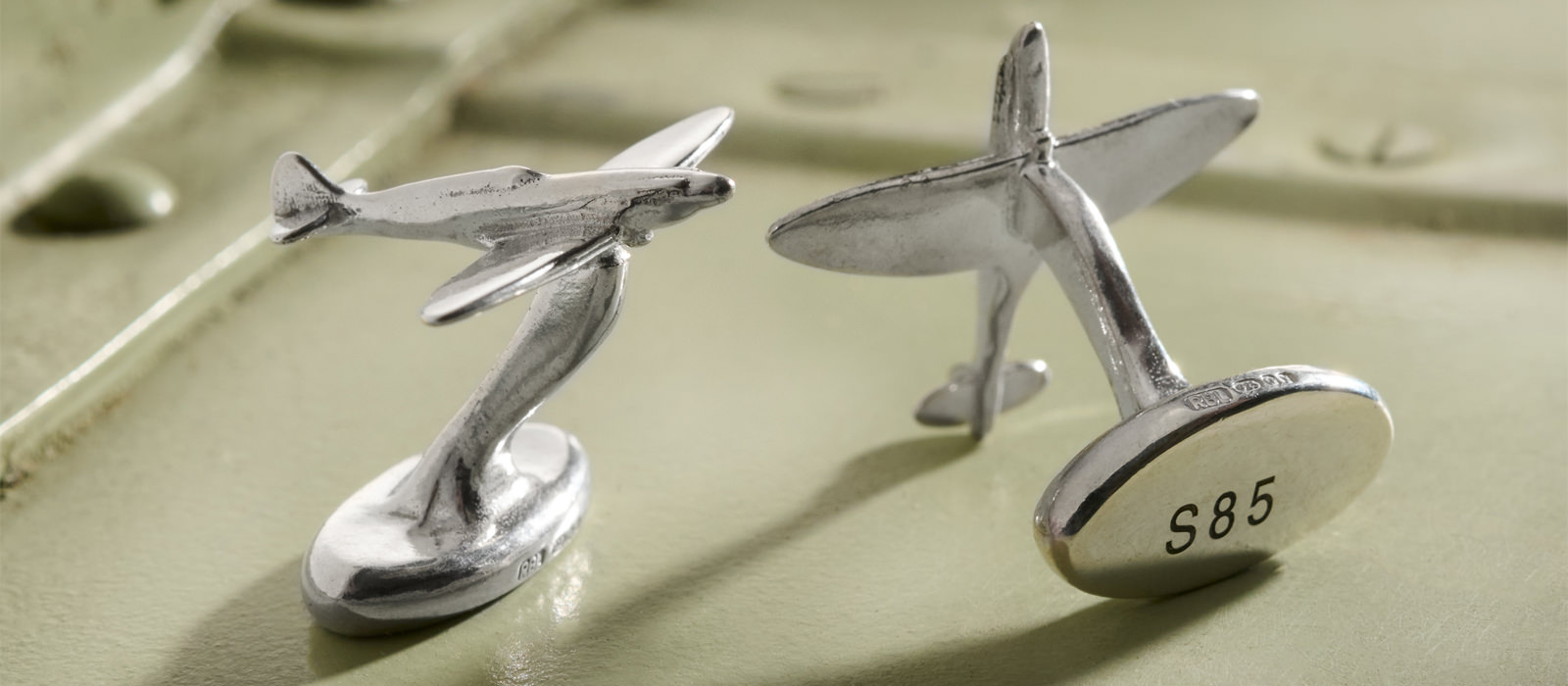 Spitfire 85 Cufflinks
S85 Hallmark
The Mk LFIXe Spitfire, MK356, was built in March 1944 and fitted with a Merlin 66 engine with a two-speed, two-stage supercharger optimised for low altitudes. Allocated to the Royal Canadian Air Force 144 wing, based in various locations around southern England, she took part in the Rodeo fighter sweep over occupied France in the weeks leading up to D-Day. After the war she served as a gate guardian at Hawkinge and Locking and was recovered and refurbished in 1992 for the BBMF. As of 2017, she is displayed in a desert paint scheme used by No. 92 Squadron in Tunisia in 1943.
Spitfire Mark XVI TE311, built as a low-back with clipped wings and powered with a Packard Merlin engine, was acquired in 2002 and initially allocated for spares, but officially added to the BBMF collection in 2007. TE311 was made airworthy in the later stages of the 2012 display season. TE311 is currently painted as the personal aircraft of Gp Capt Aleksander Gabszewicz, the Officer Commanding No. 131 (Polish) Wing.
They are both embellished with a bespoke S85 hallmark to commemorate the 85th anniversary of the Spitfire in operational service.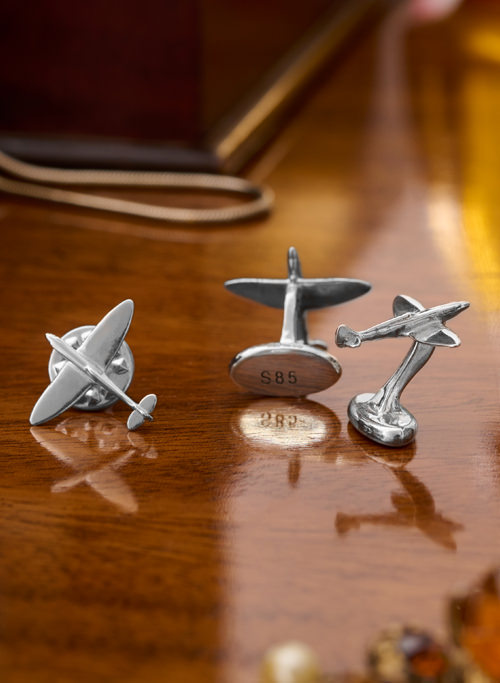 Celebrate and commemorate the 85-year anniversary of the Spitfire first coming off the production line with these Spitfire 85 Cufflinks.
This must-have accessory is a true testament to the rich history and remarkable engineering of this iconic aircraft. Crafted from genuine airframe aluminium reclaimed from former Spitfires used by the military, each pair of cufflinks carry a piece of aviation history.
One of the models that contributed to these cufflinks is the legendary Spitfire Mk.IIa, P7350 (G-AWIJ), which flew valiantly during the Battle of Britain in 1940. Its distinctive No. 54 Squadron code 'KL-B' pays homage to the aircraft flown by Alan Deere, a celebrated pilot during that time. Additionally, the Mk LFIXe Spitfire, MK356, and the Spitfire Mark XVI TE311, with their own unique stories, contribute to the collection.
These Spitfire 85 Cufflinks are not just ordinary accessories; they hold a tangible connection to the heroic feats and historical moments associated with these iconic aircraft. Each cufflink is meticulously crafted, capturing the intricate details of the Spitfire's design, ensuring a truly authentic representation.
Wear the Spitfire 85 Cufflinks with pride, displaying your admiration for aviation history. They serve as a timeless symbol of courage, innovation, and the enduring legacy of the Spitfire.
Dimensions: 1.2cm (H) x 0.6cm (W) x 1.3cm (D)
Materials: Aircraft, Silver
UK and BFPO Standard Delivery is FREE on orders £40 and over, or £3.99 on orders under £40. We despatch orders Monday - Friday, and orders are usually delivered within 3 - 5 working days.
European Delivery is £14.00, and orders are usually delivered within 5 working days.
Rest of World Delivery is £28.00, and orders are usually delivered within 14 working days.
We want you to be completely satisfied with your purchases. If you are not completely satisfied with any item you ordered, just return it, in the original packaging if possible, within 30 days of the date of receipt and we will refund your money or send you a replacement – no questions asked.
Unfortunately we are unable to refund postage incurred to return a product unless the item is faulty or defective. For further information, visit our Delivery & Returns page.