Falklands 40 Case Study - Trevor Bradshaw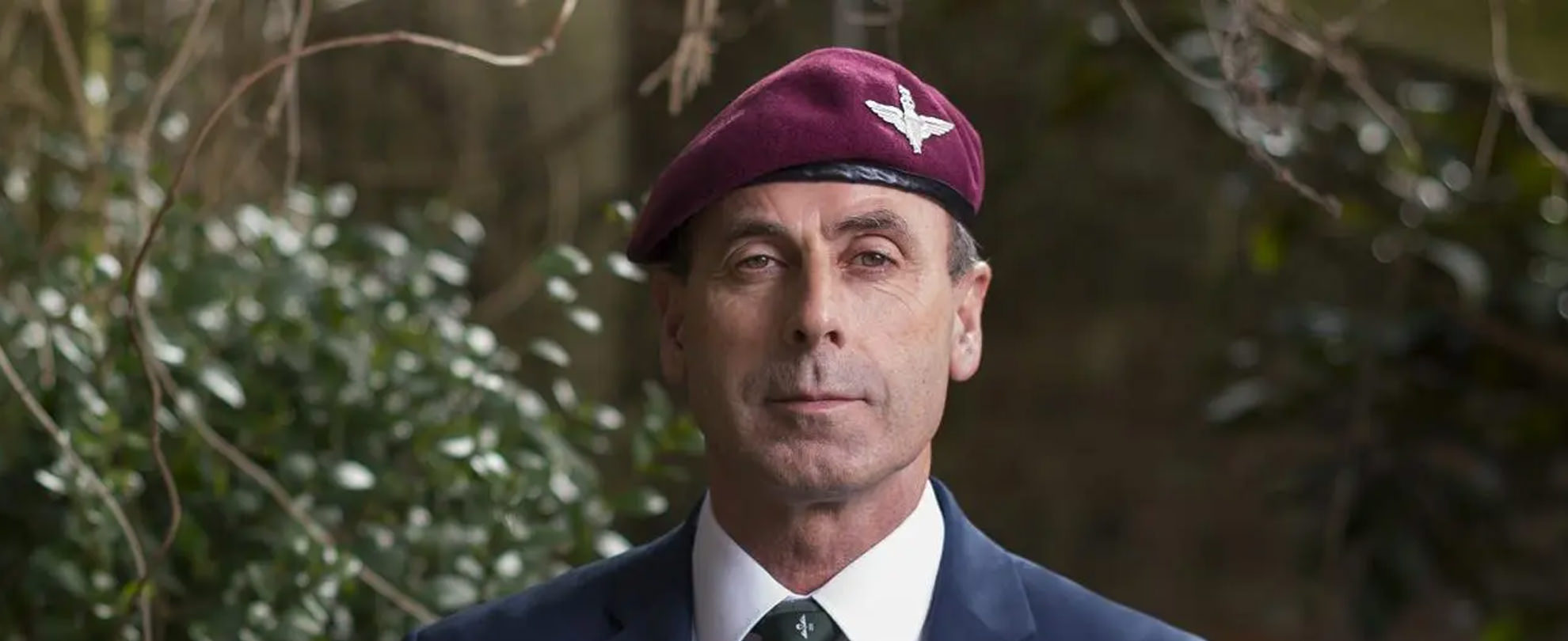 Trevor Bradshaw was 21 and only a few months into service when The Falklands War began. Now a trained counsellor, he looks back on his experiences 40 years on from the conflict.
Joining the Paras
When I joined 3 Para it was the early weeks of 1982, so I only had a few months of peacetime barrack-room life before being thrown into the deep end. I was 21.
The battalion was on 'spearhead', ready to react to any eventuality, when Argentina invaded the Falkland Islands – we all thought they were in Scotland – and we were called back to barracks.
The rumour mill pointed towards a cruise ship, the Canberra, and next thing we were in Southampton embarking on her. For a Devon lad, it was an adventure. There was a lot of posing for the press – I remember me, Tim Jenkins and a few other lads being in the newspapers, waving, with a huge Union Jack behind us.
When we set sail, it was an incredibly emotional experience. The Royal Marines and Para bands were playing on the dockside, crowds were waving their flags, and we were lining the decks. It was just getting dark, and as we rounded the headland, an amazing sight: hundreds of cars lined up, pointing out to sea, with their headlamps flashing on and off, and their horns blaring like mad. Even the tower blocks of the city had all their lights flicking on and off. The ship went silent as we sailed off into the darkness.
At Ascension Island, I watched a ship alongside doing weapons drill, awesome firepower that filled us with confidence. Next day, we were told the Sheffield had been sunk.
It was the first of two cold reality checks. The other came when the BBC broadcast that we were on the Canberra, making the ship a target for the enemy. In the middle of a stormy night they literally opened a door halfway up the ship's side, and laden down with Bergan backpacks that weighed more than us, we were told to step out onto a landing craft that was going up and down about thirty feet each time with the waves! Not what paras had been trained to do.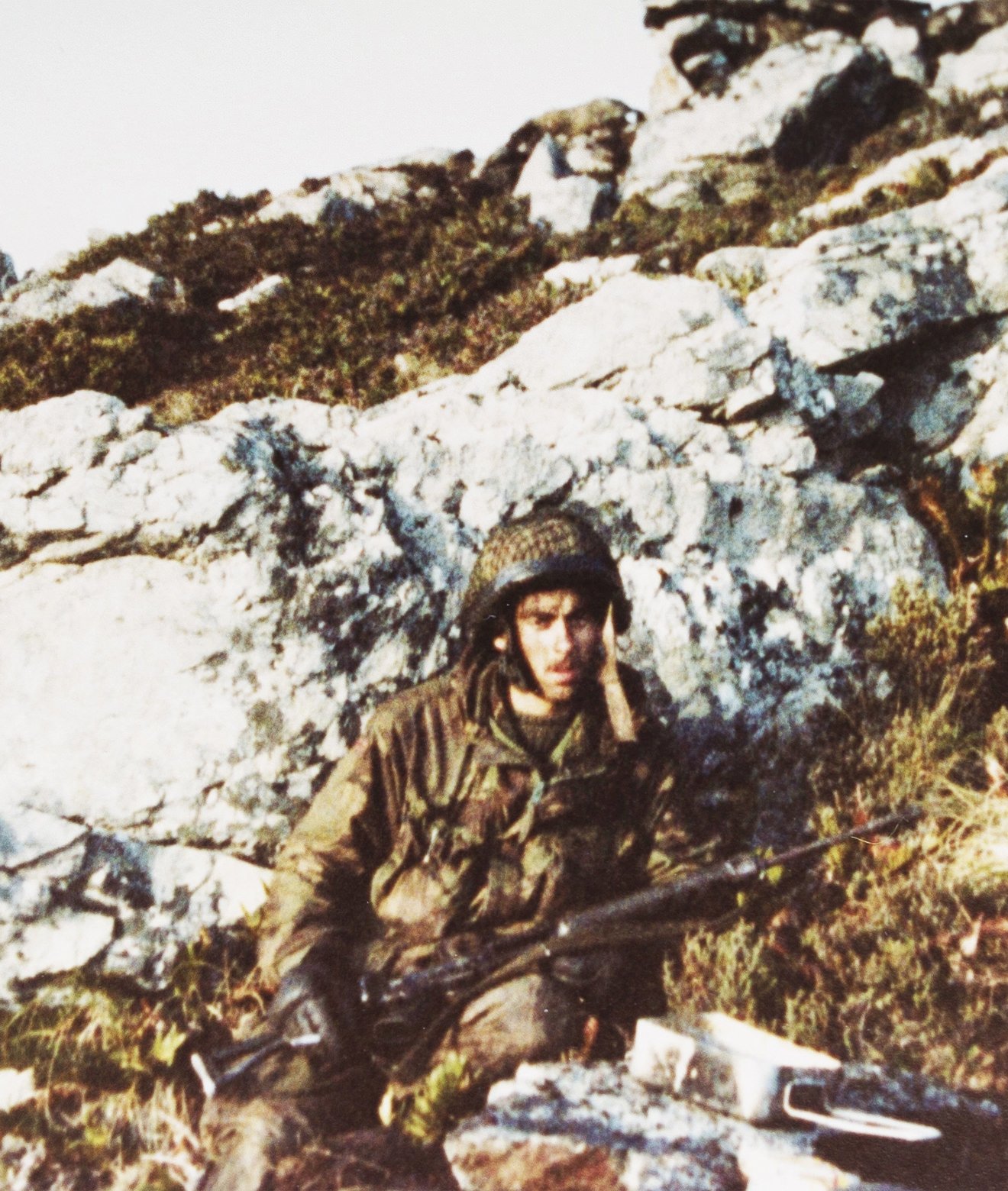 Boarding The Intrepid
As we clambered onto our new ship, the Intrepid, word spread that a helicopter had crashed into the sea killing 18 SAS soldiers. That was another sobering moment.
Next time we got on a landing craft, a couple of days later, it was to start the assault. It was bitterly cold. I felt very vulnerable coming in, we could hear the SAS engaging with the Argentines in the area, buying us time to get in.
And then as our other craft beached, the one I was on ran aground thirty metres from shore. We had to wait for a craft to get the lads off and come back so we could jump on her.
We dug trenches deep in the peat, on either side of a stretch of water leading to the bay where most of our ships were anchored. We then had this breath-taking view of enemy jets, skimming low across the water past us, so close we could almost see the pilots as they tried to bomb them.
Some of the jets dropped parachute bombs, exploding just above us. They destroyed the ship with the helicopters that we were going to use for transport, so we were forced to cross the islands on foot. That was as grim as grim could be.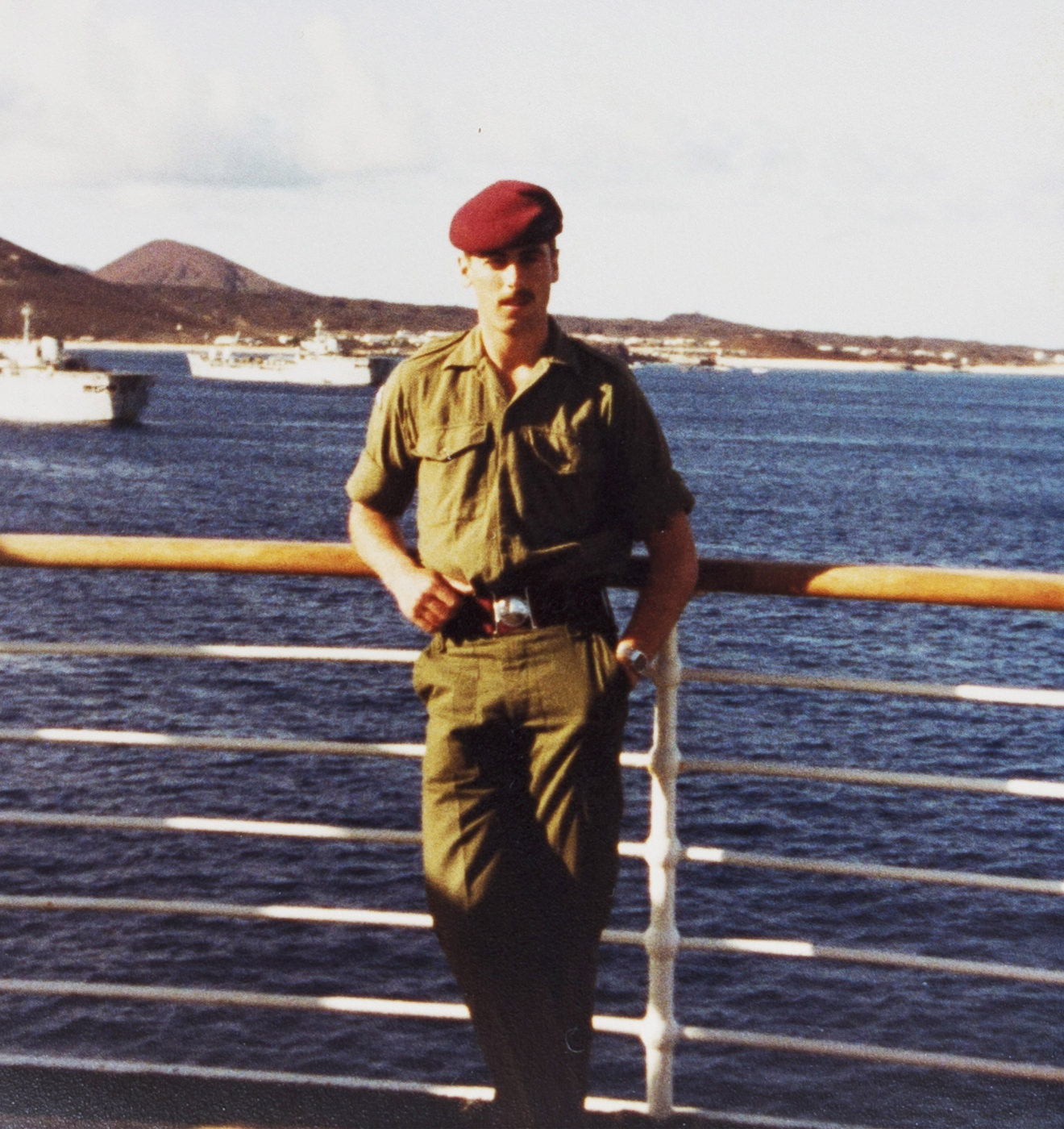 The Falklands
It's important that those who gave their lives are remembered.
The ground on the Falklands is like the most barren of British moors: tufts of grass surrounded by ice-cold water up to your ankle or knee. With all our gear, but hardly any warm clothing, it was an extremely difficult journey.
And the weather was horrendous, from hail to snow to rain, and always in a gale-force wind. All the time we're moving, I'm praying we'll stop; my back was killing me, my shoulders ached… then we'd get an order to stop, and after a minute we were so cold, we couldn't wait to move again.
It took days of this before we approached our first target, Teal Inlet. The nights were long, getting dark around 1700 and not light till 1000. The night before we attacked, the weather had turned so atrocious that we were in poor physical shape, so we were given permission to brew up in the dark – anything to keep us alive.
But when we went in, there was only one Argentine soldier there. There was a big battle ahead of us, though: the assault on Mount Longdon, outside Port Stanley.
As we waited for the assault, we built shelters out of the peat to protect us from enemy shells and mortars. At least the wet peat had a saving grace: a shell landing on concrete causes widespread damage, but when it lands in peat, it sinks down into the mush and then explodes, limiting its effective range.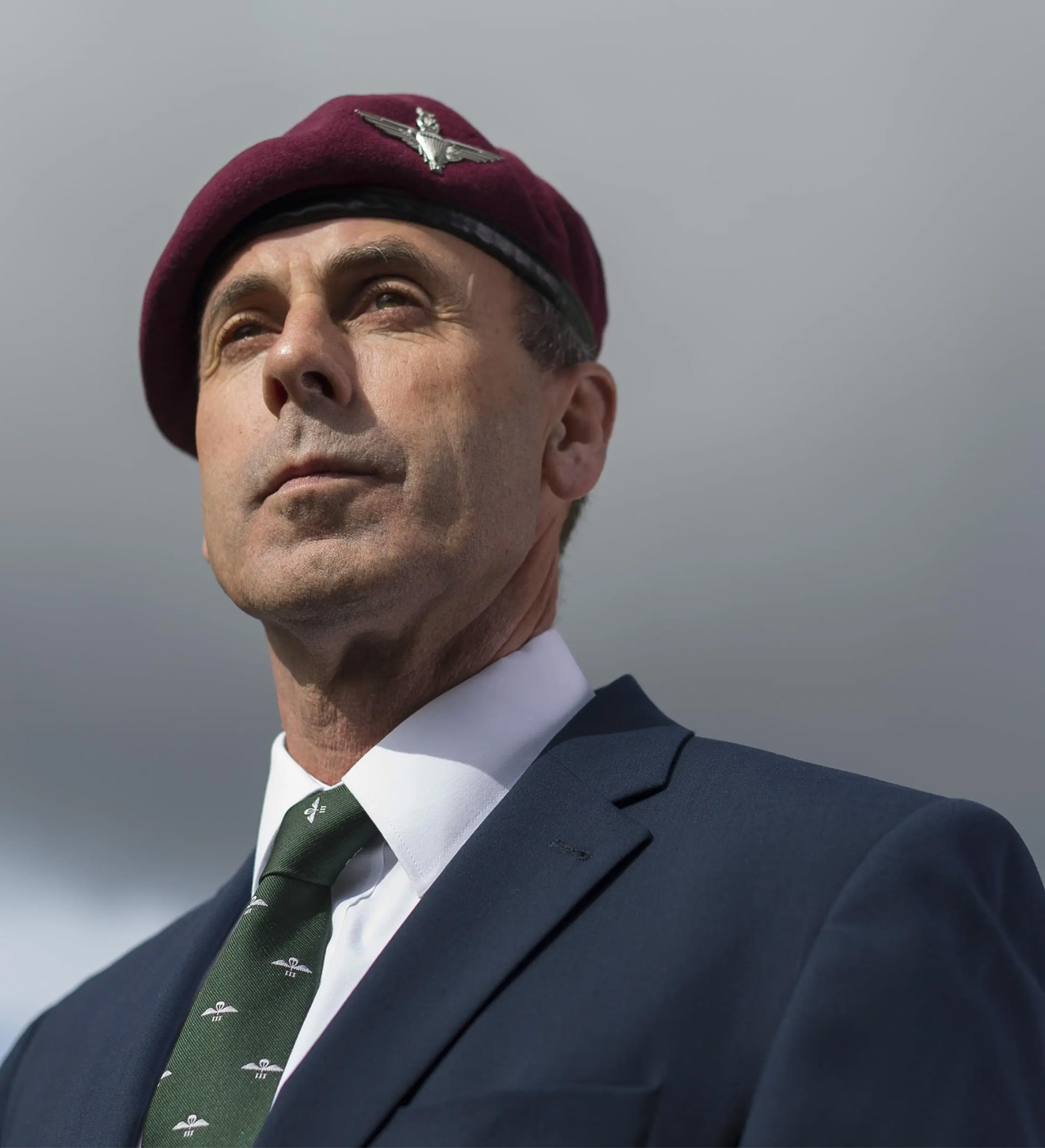 Battle for Mount Longdon
The battle for Mount Longdon was ferocious, though we were told it would be lightly defended. The plan had been for a naval bombardment to be followed by an air assault, but for some reason neither of those happened. And it was well defended – by an enemy who'd been there for months, laid mines all around it and reinforced their positions. After a night-march to the base of the mountain, we formed an extended line and were told to fix bayonets. I remember thinking this was going to hurt. We crept up in the dark until a poor chap stepped on a mine, which woke the enemy up. Twenty-three of our soldiers were killed during the battle by small- arms and sniper fire, and by shelling.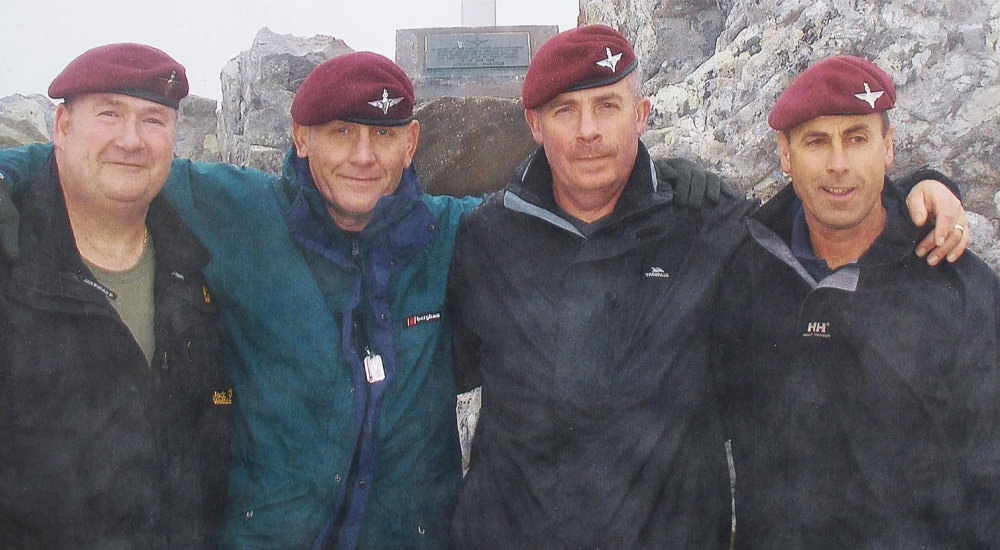 Trevor (far right) on top of Mount Longdon in 2014 with other veterans from 3 Para
As we climbed, the rounds fizzed past us. It felt impossible not to get hit. At one stage, some of us took cover behind a small peat bank, and that's where Tim Jenkins, the lad from the Canberra, was killed. In order to move forward, we walked through that minefield, knowing every step could be disastrous, still under fire, in the dark, desperately trying to put your boot into the mark made by the chap in front. It was grim.
At the peak, we discarded our webbing, crammed ammunition and grenades into our pockets, and went over the top in pairs like something out of the First World War. It was mayhem, with friendly and enemy artillery fire dropping all over the place. There was a couple of hours of frantic fighting, not knowing what was happening around you, every man for himself. War is chaotic, I think.
As it got light, the enemy pulled back into Stanley, and things got even worse as our sudden visibility meant we were shelled incessantly. I just felt powerless. That night, we watched the marines and 2 Para attack the other mountains around us, tracer rounds lighting up the sky. Next day, we were preparing for some tough fighting in the streets of Stanley, when we got word the Argentines had surrendered.
Looking Back
Looking back now, I remember getting home to Exmouth and someone handing me a beer, then asking straight away if I'd killed anyone. That was the beginning of my shutting down about the whole experience. It was just impossible back then to find the words, so I didn't even talk to my family, and it was probably twenty years before I started to deal with it.
I'm a trained counsellor now, have worked with veterans from Iraq and Afghanistan, and have been able to get some perspective on my combat experience that I didn't have then.
I didn't want to attend a Para reunion until Colchester around 2002, the first time I'd met up with any of them since leaving the Army. It was fantastic seeing those guys again, there were around 200 of us there. And suddenly, it felt okay to be proud of what we'd achieved – so I joined a lot of veterans on a pilgrimage back to the Falklands.
We retraced our steps to locate the exact spot where Tim Jenkins had fallen, and marked it with a plaque commemorating his brave sacrifice. It's very important for me that he and the others who gave their lives are remembered.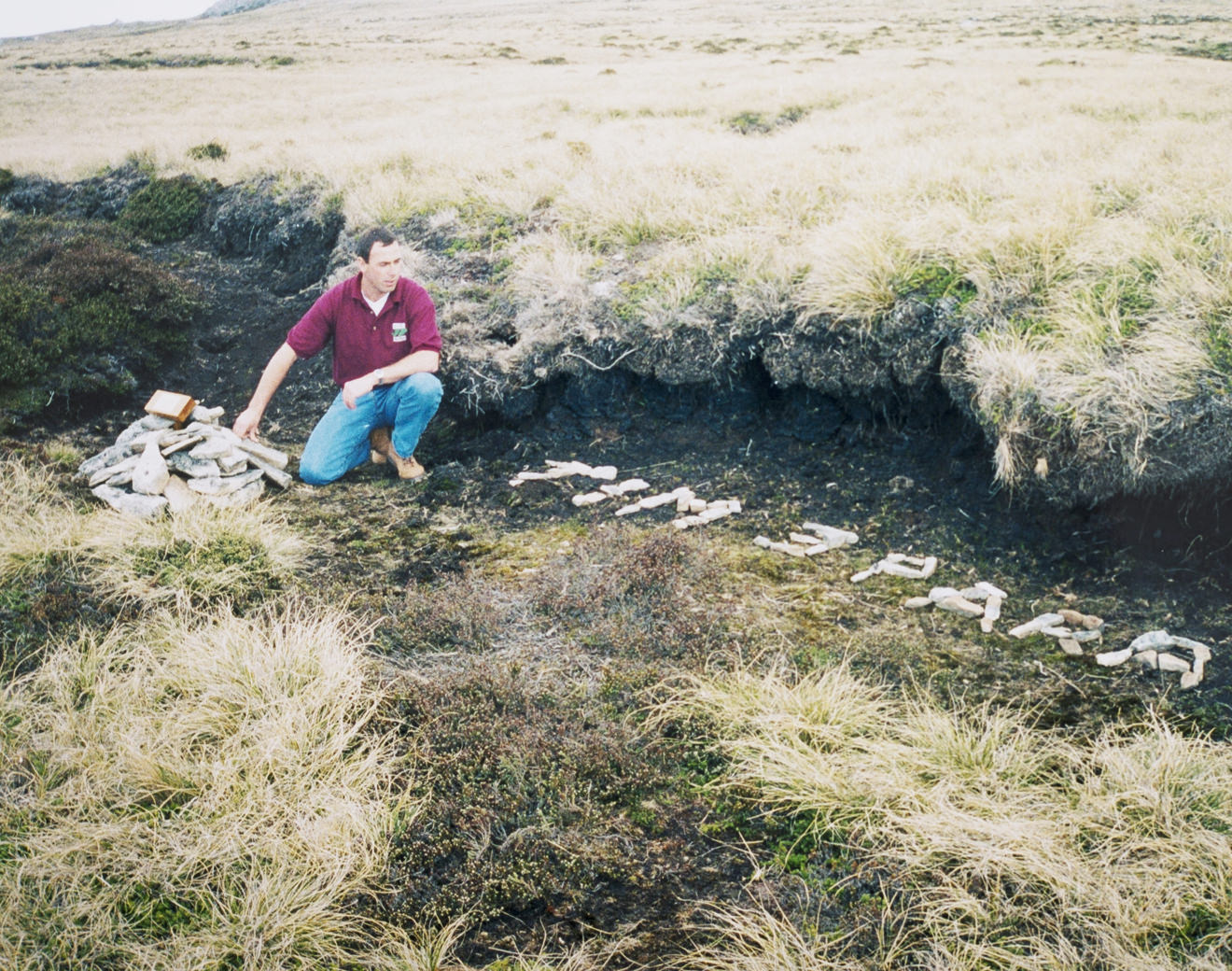 Falklands: Surviving the Battle of San Carlos
Read Charlie Threlfall's story as he recalls his time in the Falklands and surviving the perils of San Carlos Water.