Falklands 40 - Surviving the Battle of San Carlos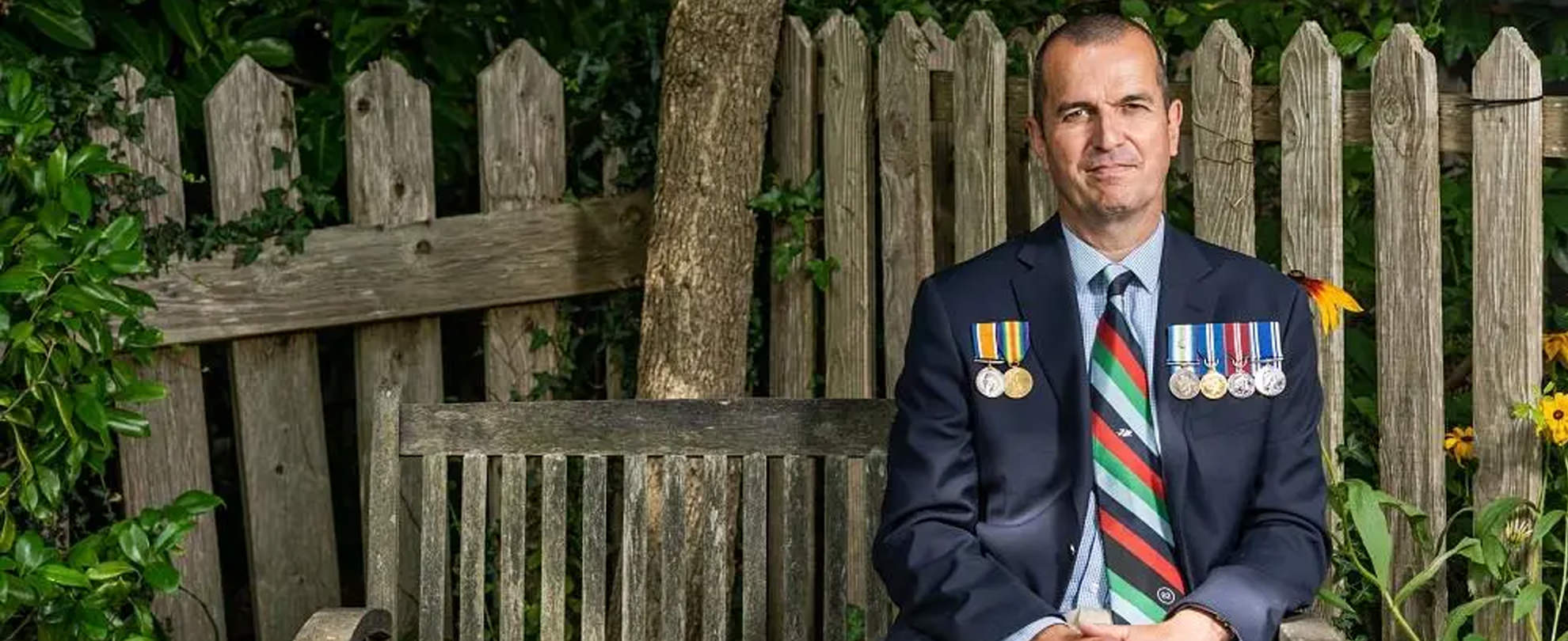 Forty years since the conflict, Royal Navy veteran Charlie Threlfall recalls his time in the Falklands and surviving the perils of San Carlos Water.
Charlie started Royal Navy training when he was 17. Having grown up on the Isle of Wight he had been inspired by the naval ships he saw from the beach as a child.
"When I started my Royal Navy training at the age of 17, I didn't expect to be involved in a major conflict just 18 months later," he says.
"The Falklands War in 1982 was the biggest naval engagement since the Second World War. "When you sign up, you know there's a chance of something happening, but you don't think of a full-on shooting war."
Having been assigned to the frigate HMS Broadsword, little did he know the challenges that awaited.
As trainees, Charlie and his fellow Midshipmen were there to learn how the ship worked. And even during the conflict they were still technically training.
"The day before Broadsword led the British Amphibious Task Group into San Carlos Water in May 1982, we'd been set an essay to write," he recalls.
"So, there we were, on watch on the bridge or running around doing all our other tasks, under constant threat of missile attack, still trying to write that essay!"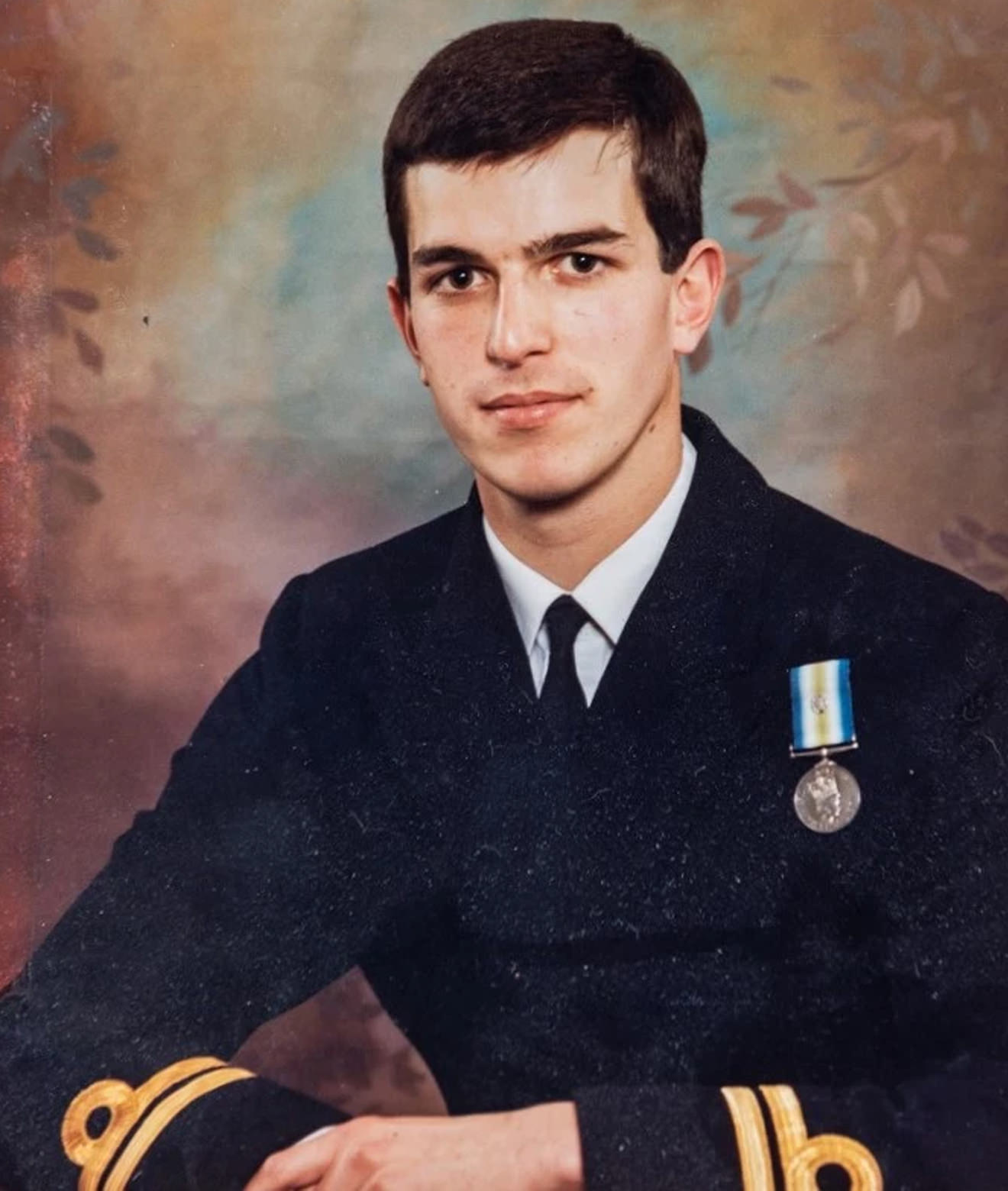 Bomb Alley
During the conflict, San Carlos Water was a key battle ground that became known as 'Bomb Alley' due to repeated attacks from Argentine aircraft on British Task Force ships.
"Some of the time it was very frightening," says Charlie. "By 4 May, an Argentinian Exocet missile had already sunk HMS Sheffield – the first Royal Navy warship to have been lost in combat since the Second World War – and a schoolfriend from my road at home had died."
Charlie arrived in San Carlos Water on 21 May, and the HMS Broadsword came under immediate attack. "There were around 35 air attacks that first day, we took multiple cannon hits and 14 of our crew were injured," he says.
"At that point, I was in the forward damage control party, so whichever end of the ship was hit – forward or aft – we would go in and tackle the damage. "On one occasion, we were hit by cannon fire that ripped holes in a part of the ship that filters the air to the gas turbine engines. "Two of us had to hammer softwood bungs into these cannon holes on the upper deck, and I vividly remember us working back to back, bashing in these bits of wood with a rubber mallet, and seeing an Argentinian aircraft drop its bombs at the same time."
I can still clearly remember the sight of Coventry heeling over. It was horrendous.
Between 21 and 25 May 1982 three Royal Navy ships were sunk – HMS Ardent, HMS Antelope and
HMS Coventry.
The loss of the HMS Coventry on 25 May is a moment that has stuck with Charlie.
Both the HMS Broadsword and HMS Coventry came under attack on the day, but the bomb that hit Charlie's ship didn't explode.
"On the first pass from two of the aircraft, they put a 1,000lb (450kg) bomb into our back end, which, luckily, didn't go off," he explains.
"It hit the ship's side about 10 foot above the waterline and deflected straight out again.
"If it had exploded, we'd have sunk immediately and I wouldn't be sitting here now.
"But HMS Coventry wasn't so lucky – she was hit by the second two aircraft and went down almost immediately. We put scrambling nets over the side and all our boats in the water – we rescued 170 crew.
"Of all my days in the Falklands conflict, 25 May is the date that sticks in my mind, and every year, I have a bit of quiet time to remember all the lads on HMS Coventry."
Falklands 40 Case Study - Trevor Bradshaw
Veteran Trevor Bradshaw was just 21 and mere months into Service when the Falklands Conflict began.